Formal Invitation Letters for Guest Speakers, Keynote Speaker, Workshop speakers/facilitators can be quite a challenge to write if you have never written one.  Like every letter, an invitation letter usually reflects the personality and the values of the person or organization writing it.  A good guest speaker invitation letter should be easy to read, respectful and clear, with all the information your guest speaker needs to make a decision.
The sample guest speaker invitation letter below is for inviting a professor for an international Conference. The mood of the letter is serious and the letter is very formal.
Please use this sample guest invitation letter as a source of inspiration for you own letter. You can make your letter less formal or even more formal, as long as you keep all the information necessary for your invited speaker to decide whether to accept your invitation or not.

Before you write your invitation letter!
If you do not have Grammarly – A grammar checker that I use every day for all my writing, please get it free from here Now. Grammarly. You can read my full story on how I discovered Grammarly here.
Sample Guest Speaker Invitation Letter
Dr. John Doe
Director of Research
Widget Algorithms
Concordia University
New York, NY 23456
USA
 International Conference: Using Widgets in the next phase of Small Devices Integration
Dear Dr. Doe,
We are pleased to invite you to the "International International Conference: Using Widgets in the next phase of Small Devices Integration," scheduled from 28-30 March 2016 in Washington DC. This Conference will be a joint effort of the University of Concordia and the University of Michigan.
The Vice Chancellor of the University of Michigan Dr Samuel Golden, will inaugurate the Conference and the President of Bell Industries is expected to address the Closing Ceremony.
The Conference deliberations will be on the following themes:
ƒ Using Widgets for whatever
ƒ Transforming widgets to whatever
ƒ Reusing Widgets
ƒThis Conference will examine research and development both locally and internationally. (this is where you let the speaker know what to expect)
It is an honor and privilege to invite you to participate in this Conference as Speaker for the Workshop on "Using widgets for whatever". We believe that your contribution to this field is unparalleled and a workshop on this topic will be of great benefit.
We look forward to a positive confirmation, an honor for us indeed. Kindly RSVP by February 20, 2016 to the Conference Secretary, Ms. Mary Longe, at info@widgetconference2016.com
Your Faithfully,
Dr Mark Loner
Conference Planning Chair
Dept of Electronics
Mark University, Michigan.
---
Sample Invitation Letter for a Guest Speaker to speak at an Annual Dinner
EMYL Group
123 Street West,  Lafayette, MI, USA 23123
___________________________________________________________________________________________
April 21, 2016
Bob Harps
Harps Consulting
Indianapolis, IN, USA 12980
Dear Dr. Bob Harps,
Invitation to Speak at Annual Dinner
EMYL is a group of business minded youths living in the Lafayette area. Each of our members started their business below age 20 from which they make a living, having this in common we gather to help achieve our goals together.
Like partners, we track progress from business to business by following set structures that we have formed from reading good books. Your book titled "Get Set, Go!" is one of the books that we have used and many of our members saw tremendous progress while we were studying it.
Among other things on your website, I appreciate one of your goals that has to do with 'helping younger people succeed'.  And in this regard I would like to formally invite you to be the main speaker at our annual year-end dinner. This is schedule for Saturday the 8th of December, 2016 at the Lafayette City Hall. I know that our members will be thrilled to have you in person.
Kindly confirm your acceptance for the date. However, if you are not available to speak for that day, we still have ample time to make some date changes to accommodate your availabilities. I could be reached by phone at 627-448-1234 or  by email at Larrygolders@EMYL.org.
Our website is www.EMYL.org to give you more information about the group.
Sincerely,
Steve Harris
President
What are the basic components of an Invitation Letter for a Guest speaker?
All invitations should have these components no matter how you choose to format or arrange them. You language could be informal or formal. You could use email or a regular mail or a combination of both. Just make sure these basic components are included in the letter.
The name, date, and venue of the event
The theme or focus of the event
Why you think they would be a great speaker for your event
Why it would benefit them
How they can contact you
 Sample Invitation Letter for a Guest Speaker – Image
Here is an image to help you visualize how the printed copy of your invitation for a guest speaker should look like.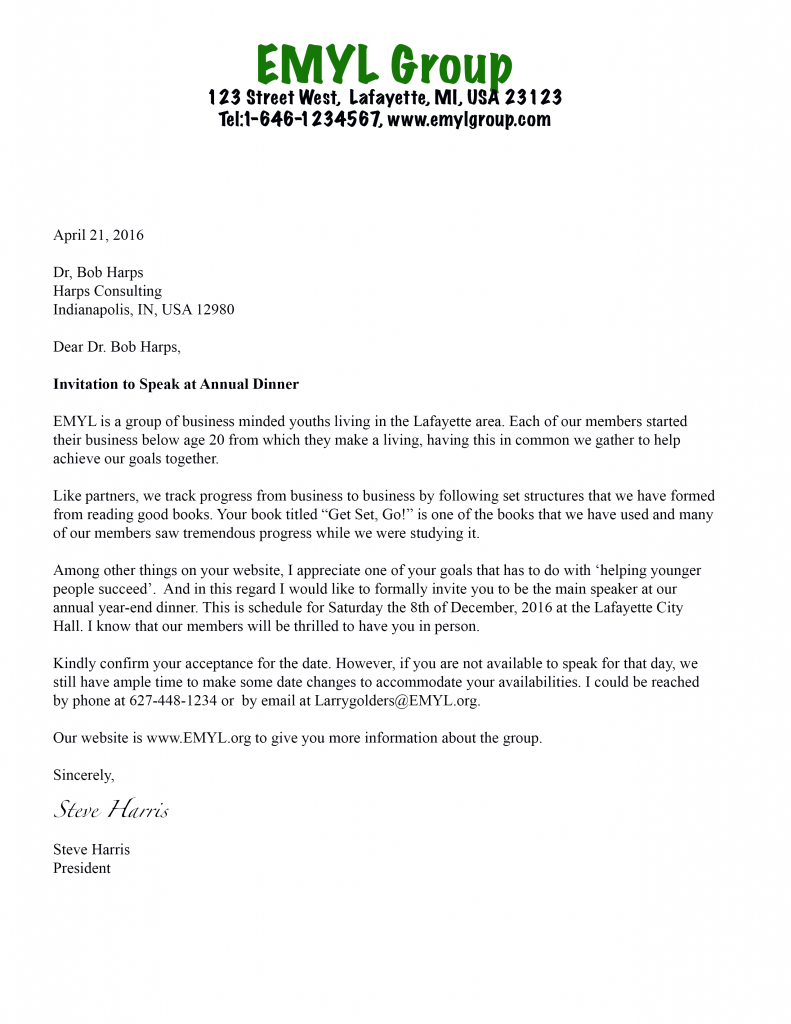 When and How to deliver a guest speaker invitation letter
Guest speakers play a major role in any event. As a result, it is important that the organizers of the event send out the guest invitation letter as early as possible. For popular speakers and celebrities you may need  up to 6months to two years.
Many speakers today will be happy to receive an email invitation. However it is advisable to send a hard copy of the invitation letter to the guest speaker. You may then choose to send a scanned or PDF copy of the letter to the speaker via email.
Some other sample guest speaker invitation letters