What is an Invitation Email?
An Invitation email is a written electronic request for the presence of a person, group of persons or organization at an event.  An invitation email is just like any invitation letter except that it is delivered to the invitee via email.
More and more people today are turning to emails as their preferred mode of formal written communication. They prefer emails because of the timely delivery and the fact that even the printed invitation letter can be scanned and forwarded via email.
Below are some sample Invitation Emails that will give you an idea of how to start your next invitation email. Should you decide to send individual mails to your invitees, then you can add some person touch to it. I don't see a need for that though.
List of Sample Invitation Emails
---
Before you write your invitation letter!
If you do not have Grammarly – A grammar checker that I use every day for all my writing, please get it free from here Now. Grammarly. You can read my full story on how I discovered Grammarly here.
---
Sample Business Meeting Invitation Email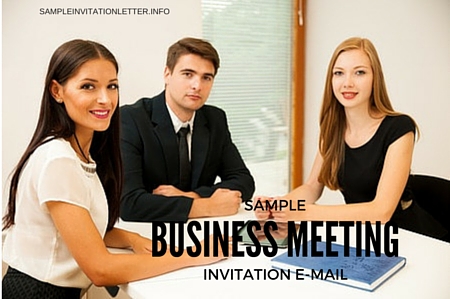 SUBJECT: Business Meeting on Thursday Jan 23rd at 9:00am
Hello team members,
I would like to expresses by personal gratitude for working so well as a team and being able to achieve last year's targets. I am sure there were valuable lessons learnt from few mistakes made, however we learn and improve through our mistakes.
This new year brings along new challenges and goals that cannot be achieved without contribution of everyone on this team.
In order to discuss this year's work plan and to highlight each team member's role, a meeting has been scheduled for Thursday, January 23, 2016 in the conference room at 9:00am. The team leads are requested to make a 15-20 minutes a presentation that covers last year's achievements and next year's plans. Any additional agenda regarding resource and funds allocation may also be included in the presentation.
Please acknowledge receipt of this email as usual.
Dave Thomson.
---
Sample Conference Invitation Email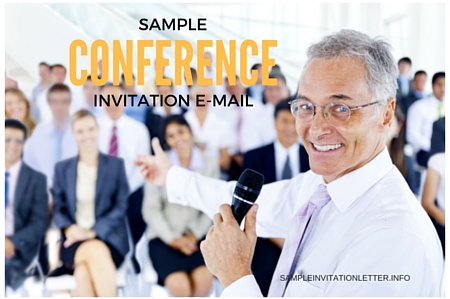 This Invitation email is addressed to a business owner inviting him to attend and participate in an annual conference. Usually this kind of invitation email will be customized and sent to a number of business owners in the community.
Subject – INVITATION TO THE 6th ANNUAL ENTREPRENEURSHIP PROMOTION CONFERENCE
Dear David Salaska,
We would like to invite you to attend the 6th Annual Entrepreneurship Promotion Conference organised by The Entrepreneurship Promoters Inc. , which is slated to hold from 13th Jan 2016 – 15th Jan 2016 at the Sheraton Hotel and Conference Center, Sydney Australia.
Entrepreneurship Promoters Inc. is a Not for Profit Organisation which has been providing vital information, inspiration and motivation to the citizens of Sydney to start and manage their own business. Every year we organize a conference where we invite entrepreneurs around the city to discuss some tips and tools that will promote or help their business.
This year our keynote speaker will be Mr John Marcus a 25 year old online entrepreneur who makes a profit of $40,000 every month. He will be speaking on the topic – Taking your business to the next level via online marketing.
During this year's conference we would like to recognize you as one of the business owners that our budding entrepreneurs can interact with during the conference.
Kindly let us have your response by December 31st 2015 so that we can make further arrangements. We look forward to receiving a favorable consideration from you. We may also be contacted on phone at 111-111-3333.
Yours sincerely,
Jacob Yakov
Secretary
Entrepreneurship Promoters Inc.
www.EntrepreneurshipPromoters.org
111-222-3333
---
 Sample Invitation E-mail for Baby Shower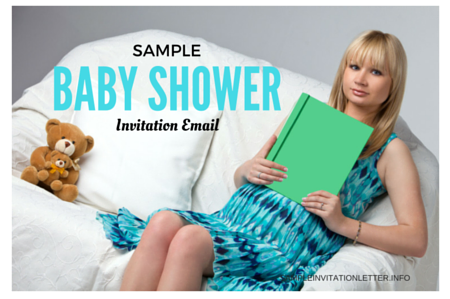 Inviting guests for a Baby Shower can either be formal or informal. If the shower is being planned for someone within an official context, you may want to have some formal invitation letters. In general however, a simple email may do the trick. The advantage of an email is that it is easier to coordinate the RSVPs.
There are many online electronic invitation cards or e-vites that can be used to invite your guests to a Baby Shower. I suggest that you use one of those. If however for some reason, you believe that your guests would prefer a personalized email then find a sample invitation email below.
Sunject: Surprise Baby Shower for Melissa & Luke Bowen
Dear Jane,
You are cordially invited to celebrate with our dear friends Melissa & Luke as they welcome there little bundle of joy into this world.
 Date: May 14th, 2011
Venue: Mike & Laurie's Home, 7849 Mallory Lane, Pittsburg, NE. 22382
Time: 7pm
As you may already know, they are expecting a baby boy. Mellissa and Luke have registered at The Bay gift registry so you may choose to pick up a gift on their list. Simply( Click here – Please insert the link] and use the their last name Bowen to search.) If you choose not to for some reason, you may consider giving a cash gift or a gift card. Feel free to pick out other gifts for them as you wish.
This is a surprise for Melissa so I will ask that you do not mention it to her. The plan is to her her in by 7.45pm so please endeavor to come in latest 7.20pm. However please help forward this to Melissa's friends that are not in this circle.
Our hosts have decided to provide some meal and all the materials needed for this party however it will still be pot luck. We ask that you bring some finger food with you. RSVP and confirm food you will bring latest next week Friday. You may reach me on my cell -517-435-4412 or by emails at nicoleKitty@gmail.com.
Thanks and have a nice week.
Sincerely,
Nicole
---
Sample Invitation Email to a Christmas Dinner at a Church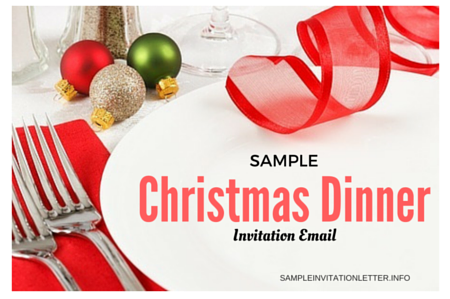 Inviting members of a church family via email does not really need to be formal. Sometimes a friendly email is all you need. For an invitation to dinner there are just a few components of the letter that are compulsory. You can always adapt the rest of the email to suit you need. For this letter to be formal, all you need to do is add the Formal Letter format and change the tone of the invitation.
Dear Joanna,
This Christmas, as we celebrate the birth of our Lord and Savior Jesus Christ, we will love to bring His love and hope to people around us by sharing the love of God with them. This means that there will be a service at Christ Hope Church at 11am on Christmas Morning, immediately after which dinner will be served.
Through this we hope to share fellowship and love with those that have no family members around and at the same time teach our little children the act of giving at Christmas. We will need your help as we organize reaching our neighborhood in order to invite them for this joyful event.
Together we can share the heart of God, give hope and feast with those that Jesus would love to feast with.
Yours sincerely
Sharon Smith
Secretary
---
Sample Invitation Email for your child's birthday party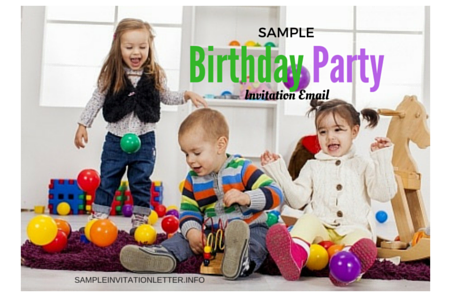 When preparing the invitations for my son's birthday party last December, I realized that although a good number of our friends are on Facebook, there were still some that had to be invited via email.
There are still many parts of the world where a good portion of your social network may not be on Facebook. Here is a sample email that you can use as a formal invitation to your child's birthday party!
Subject: Invitation to Marianne's 5th Year Birthday Party
Dear Janet (or any other salutation that you have used earlier)
How are you and your little ones? It's been quite some time, but nevertheless, a perfect occasion is approaching for us to catch up and celebrate. (Insert any other pleasantries).
Our daughter Marianne is turning 5 on 28th Aug, 2017 and we are organizing a birthday party at our place and  inviting some friends and family.  We would like to have you and your children at the party. Here at the details of the party!
Venue – Our home – 123 Johnson lane, Nairobi, Kenya.
Time: 5:00pm – 7;30pm
Date: Sat Aug 28, 201X
Please note that there will be various party games and food for the kids and adults! We are really grateful for the blessing that Marianne has been to us and we would like to share the joy with you all.
Do convey to us your plans so that we can pick you guys from the station. Pass our regards to Joe and lots of love to your little angles.
Looking forward
SUSAN MILLER