What is a School Leave Letter?
A school leave letter is a formal document written and presented to a school management by a parent or student, excusing said student from school until a certain date – this is done to ensure that the student does not fall behind or get unfairly suspended for his/her absence as well as to maintain goodwill between the student and the school authority on the basis of good communication.
The leave may be requested for a varying number of reasons including sickness, family emergency, or some other important situation.
There are different types of leave letters, and the school leave letter is just one of them.
Components of a School Leave Letter –
A school leave letter should be a typical business letter style with your letterhead or just your address, the recipient's address and the date be sure to include the following details;
Be Transparent about your reasons – give a summary of the situation including why the student must be absent from school.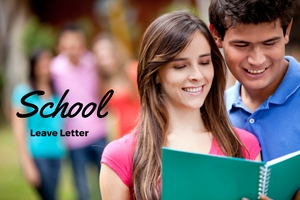 Even if the reasons for requesting the school leave is personal, it is important to be as honest and transparent as possible; this would help win the empathy of recipient and aid the re-acclimatization of the student after resumption.
Remember to clearly state the date the student will be absent from school as well as the date he or she can be expected to return.
It helps for clarity sake to out rightly state the dates within which the student would be absent from the school and also include what he/she would be doing in the period spanning the duration indicated.
Details of how you can catch up with classes missed
The most drastic implication of missing school is falling behind on the curriculum. Thus, suggest a means by which you may keep up with the tasks, and if this impossible, reassure the recipient that you would be able to catch up on your return.
 Sample Formal Letter
The sample of the school leave letter below may serve to guide you in writing one of yours, and is from a parent for his son whose mother, for medical reasons can neither take care of him nor send him off to school He gives a summary of the situation in a professional manner and gives the dates of his son's expected absence, assuring that every effort will be made to catch up on his homework and assignments when possible
Mr. John Doe
694 Bluebird Lane
Columbus, OH 43266
April 1, 2020
Ms. Jane Peters
Principal, ABC Elementary School
366 Red Rock Road
Columbus, OH 43266
Dear Ms. Peters,

I am writing request that permission be granted my son, Jason Doe (class), from school, effective immediately until next Monday, April 8, 2020. This is due to an emergency in the family involving my wife's hospitalization for cancer. Her surgery is already underway and, barring any complications, we expect her to spend the rest of the week recovering from the procedure and undergoing follow-up testing.
With Jason and I spending all of our time at the hospital with her, there is currently nobody else to take care of him and see him off to school until we get some external arrives to help us next week.
We have already contacted his teacher to arrange to pick up his homework and assignments for him to complete at home and will be making every effort to ensure that he does not fall behind in his classes due to this absence and we appreciate your assistance in this matter.
We thank you for your consideration.

Yours sincerely,
John Doe
Sample Email
In some instances, you may be required to write an email, either as an accompanying copy or as the exclusive means of making such requests; here is a sample that sites a different example to serve as a template –
To:Name@schoolname.com
From: Mail@.com
Subject: School Leave Request
Dear Manager's Name,
I am writing this letter in order to make a request to kindly grant my daughter ABC, a student of class IX 'A', a leave of 5 days i.e. from 20th March, 14 to 25th March, 2020, since she needs to travel out of town, on account of her sister's wedding.
She is the bride's maid, and this being her sister's wedding which is a once in a lifetime affair, this is very crucial and she wouldn't be able to miss it.
 I assure you that she would catch up with her studies and assignments once she resumes school from 26th March, 2020.
Thank you in anticipation of your favorable response.
(Name)