What is a church Invitation Letter?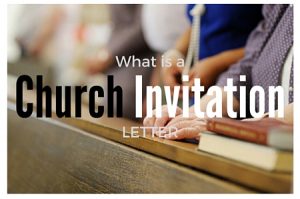 A church invitation letter is a document used to formally request the attendance of a person or a group of people to a church event. It is an invitation letter that can be used either to invite members of the community to attend a church event or to invite another church to participate in your event. It may also refer to an invitation addressed to a preacher to minister at a church event.
There are many para church ministries today who are always wanting to invite churches and other para-church ministries to their events. The sample invitation letter below can be adapted to any such situation. Whether you are a youth leader looking to invite other youth ministries to your event or you are a new musical band, looking to invite some groups to your event, this sample invitation letter would be useful.
Before you write your invitation letter!
If you do not have Grammarly – A grammar checker that I use every day for all my writing, please get it free from here Now. Grammarly. You can read my full story on how I discovered Grammarly here.
Sample Church Invitation from one church to another church
---
The Agape Church
123 Stodes road, Kingston, Ontario.
www.theagapechurch.org
admin@theagapechurch.org
April 15 2012
Rev Matt Anderson
The Redemers Baptist Church
Kingston, ON.
Dear Rev Anderson,
INVITATION TO PARTICIPATE IN A 2 DAYS WORSHIP EXPERIENCE
You and your entire church family are cordially invited to a 2 day worship experience taking place at the K-Rock Center on Friday and Saturday June 12th and 13th, 2016 at 7pm – 10pm on both days.
The Main worship band at the event will be the Solid Rock Band. This a worship band that seeks to draw the body of believers beyond simply singing to a more spiritual and life transforming communion with God.  The band comprises of 3 singers who have been in the music ministry for over 10 years. As a band the have released a 5 worship CDs and in 2011 the won the dove award for best inspirational worship.
We are privileged to have them this years since they are usually booked for many months ahead of time.
This is a free event but free will offerings will be taken during the meetings.
Our prayer is that the body of believers in Kingston will all come together to worship our Lord Jesus Christ.
Yours in Christ
Rev. Dave Solomon
The Agape Church