Electronic mail or e-mail are messages sent electronically from one computer user to one or more recipients via a network.  Statistics and counting by Radicati Group from February 2015 estimate the number of emails sent per day (in 2015) to be around 205 billion. That means a ginormous amount of emails are sent from one place to another on daily basis. E-mail has made communication infinitely faster. Where it used to take days for letters to get from one location to the other, it now takes the click of a button. Here, we'll be sharing the Top 5 tips to make your emails stand out.
According to a recent survey, over 70% of people report they would prefer businesses to contact them via email. Some people go through dozens, even hundreds of emails every day. People that deal with a lot of correspondence like Human Resources Managers, will tell you there are few things more monotonous than going through hundreds of letters or job applications. Most offices send and receive correspondence through email.  You may have a computer network where employees easily and quickly email each other through in-house.
So, if someone is reading your email out of a hundred, it's important you write one that gives a great impression of who are and effectively conveys your message. Here are 5 Tips that will undoubtedly make your emails stand out.
WHAT'S IN YOU SUBJECT LINE?
The first thing a person sees about your email is the subject line. Generally you don't want to have an essay as the subject of your email. The subject line often determines whether an email is opened and how the recipient responds. An email with a blank subject line will probably get deleted, lost, or immediately irritate the receiver. They will be force start figuring out what the mail is about. Make it as short as you can stating exactly what the email is about. If you are writing about a payment voucher, state it in the subject. It should be direct yet detailed. For example, instead of saying "Payment Voucher", say "Reesa's Payment Voucher for 2 Dozen Roses". The most effective subject lines are between 5-7 word or 30 characters or less. Follow this tip, and your emails are sure to stand out.
BEST TIME TO SEND EMAILS
There isn't a certifiable guaranteed best date to send in an email. If there was, everyone would send on that day. However, there does seem to be a perception that certain days are better than others for opening and responding to emails, especially if you're writing to an organization.
If you want your emails to stand out, you should take note of the following. Mondays are the beginning of the work week. It can also be an overwhelming day for most people. It's a day to catch up on last week's leftover work and generally ease into the schedule of the new week. Inboxes are usually overflowing with unopened emails from the weekend. If you must send an email on Monday, give it a few hours, and send around afternoon time to increase your chances of being seen.
Tuesday on the other hand is thought to be the best day to send an email. Having worked through the grunge of Monday, people are better placed to tackle their correspondence. Wednesdays and Thursdays are a little less popular than Tuesdays, but your chances of visibility are still quite high. Fridays are challenging because most people are already thinking of the weekend, and are not trying to focus on work. Still give it a go though. Saturdays and Sundays used to be quite unpopular because people tend to switch off on the weekends. With the rise of smartphones however, many people still check their mails on the weekend. But don't expect a response till after the weekend.
SHORT AND SIMPLE
Keep your emails short and simple. Don't offset your concise subject line with a rambling email. Get to the point of the matter. Highlight in bold certain words or figures you want the recipient to take special note of. Be careful though not to overdo it till it becomes a distraction.
SIGNING OFF
Sometimes your last word can leave a lingering impression on the recipient. Try to make it positive. You can use words like "Best Wishes", "Sincerely", "Cheers!". Encourage the receiver to respond. Phrases like "I look forward to hearing from you", "Looking forward to your prompt response" can push them to respond faster to you. Ensure you sign off with your name especially in a formal correspondence. Check your email options to find out how you can customize your name and contact details to automatically appear at the end of every letter. This is especially useful if you are sending a large number of mails for a singular purpose. A customized signature will surely make your email stand out.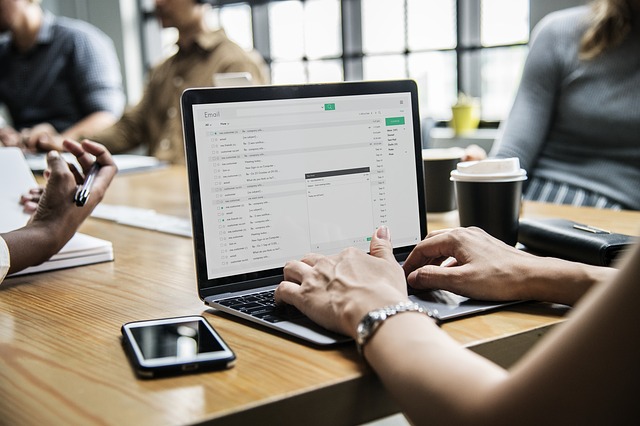 PROOFREAD
A well written email is far better received than a poorly written one. There is no shortcut around this. You can install editing software that can help you detect obvious errors. Your Word Process would also usually point out some grammar and spelling mistakes. Still, you should take the time to go through your work once or twice over. Have someone else proofread if you can. This is especially important if it is a formal email. The recipient may be judging you on your grammar and presentation.
FINDING YOUR EMAILS IN FUTURE
There are emails that you will inevitably need to check up later. Many of these are predictable. For any email that you believe you may need to recall in the future, it is a good idea to tag them with key words at the time you initially read the email. You will probably use the same key words in future when you are looking for your archived email. You can also star them and find in your "Starred Messages" or other dedicated folder.